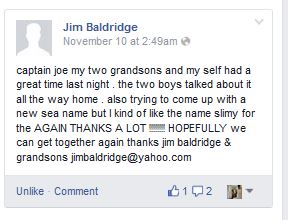 ———————————————————————————————
Joe:
Thanks again to you and Brodie for taking James and me walleye fishing last week.  We had a lot of fun an caught some nice fish to boot.   Tried some the other night and they were great.
Following our discussion, please send along a few of your favorite recipes.
I will send some folks your way next season.
Attached are a few pictures from my Alaska Trip.
Gary
Gary A. Amendola, P.E. | President
———————————————————————————————
Hi Captain Sloppy Joe,
We truly enjoyed every moment spent fishing with you and look forward to seeing you again! Here are a few pics we want to share of our memorable moments. Sterling really enjoyed this Birthday present. Thanks again!
Sterling & Camille
———————————————————————————————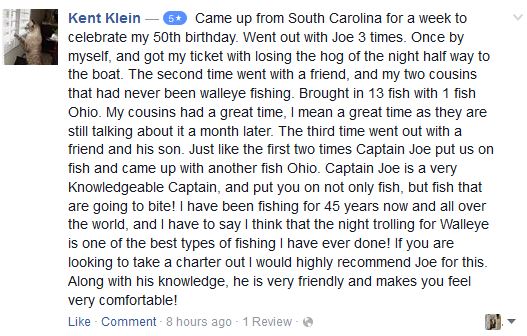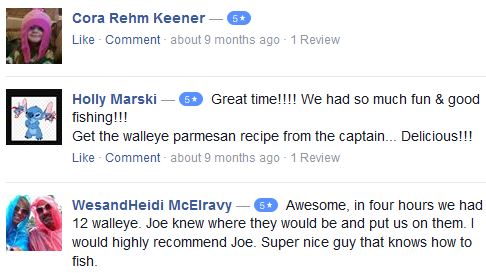 Al Z
Thanks again joe for the great fishing time. Please send the charts you mentioned
Al
—————————————————————————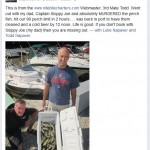 click to enlarge
————————————————————————–
Todd R
Captain Joe,
I just wanted to thank you for the great time we had yesterday. Uncle Dave,
Chris and I really enjoyed ourselves. It was a pleasure meeting you. The
time on the water took the heat off for a moment while dealing with Mom in
the hospital. I will try to get my boy's out with you before winter.
Thanks again for your time and knowledge.
God Bless,
Todd R
—————————————————————————
Tamela S
We had a wonderful day fishing with you as well. And I plan to fish with you again if you will have us
—————————————————————————
Holly M





Great time!!!! We had so much fun & good fishing!!!
Get the walleye parmesan recipe from the captain… Delicious!!!
—————————————————————————
Wes and Heidi M





Awesome, in four hours we had 12 walleye. Joe knew where they would be and put us on them. I would highly recommend Joe. Super nice guy that knows how to fish.
—————————————————————————
Fish'n what bites
My wife and I took a drive up to Vermilion for a walleye charter with Nite Bite Charters Thursday morning for a 4 hour trip on Erie. We had a blast, now we want an Erie boat. "Sloppy" Joe was very helpful, he knew where to go and he put us on some fish amd shared some knowledge with us. From the sounds over the radio guys were having a tough time. We came out with 5 good walleye, lost one that sunk the board twice. Would definitely recommend him to anyone looking for an awesome deal on a charter with a great knowledgeable charter boat captain. Some pics of our catch below.
—————————————————————————
Scott C
Joe worked my wife and I in on very short notice. Joe was recommended by a local bait shop who offers a charter service also…which impressed me that the charters in area work together not against each other. For just two people Joe offered to take us out and work with our schedule while we had down time during my visit to Cleveland Clinic. Being out of town and not having any plans for this adventure before we came to Cleveland Joe helped us with fish cleaning to clothing. Joe is just an honest and affordable captain I would recommend to anyone.
—————————————————————————-
Thanks for the Great Time last night catching some Eyes Capt. Joe! It was a blast and you will definitely be hearing from us again.





Had a great time, will do it again soon, limited out on walleye